We are not sure why but people are looking for llama stuffed animal on Amazon and the Internet. It is a thing! A soft, cushy stuffie shaped like a llama is the new 2020s teddy bear, it seems.
It seems like yesterday it was the stuffed sloth that was all the rage, maybe because of the loveable sloth in the DMV office in the movie Zootopia.
And sure sloths are stuffed and available on Amazon and other places online too. I mean look at these stuffie sloths. Gawd they are cuuuute.
But my money is on the teddy bear llamas. In fact, I may just buy my wife one because she is also llama crazy. I bought her these llama Christmas PJ pants and she loves them. Fa la la la llama!
Still as a family we are all in on the llama stuffies.
Check out this selection of llamas.
You got your lying down llama.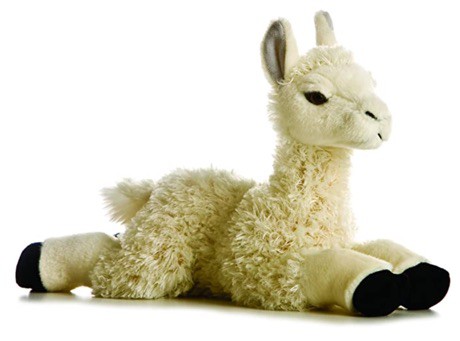 There a fluffy mega cute llama here. Although it is actually an alpaca stuffie – see pix below. Also available from FluffyStuffie.com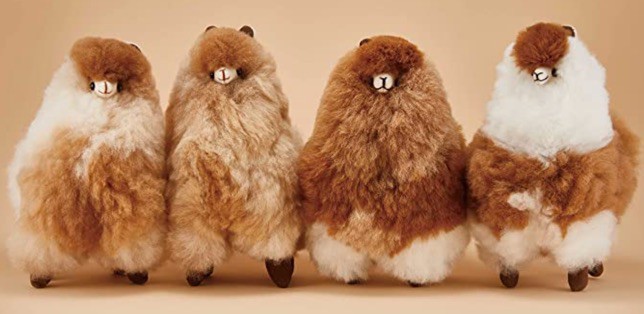 Llama vs alpaca
Now while I am on the llama vs alpaca topic: Do you know what the difference is between an alpaca and a llama?
Ears: Alpacas have short, pointed ears that look kind of like ears on an elf. While llama ears are longer and more banana-shaped.
Faces: Llamas faces feature long snouts. Alpaca faces are squished.
Size: Llamas are big up to four feet at the shoulder. Anf they are heft at 400 (181 kg) pounds, whereas Alpacas are smaller measuring three feet and 150 pounds (68 kg).
Hair: Lllama hair is fiber-like. Alpaca hair is woolly or fleecy. That is why you see alpaca sweaters.
Demenor: Alpacas are usually shy and polite. Llamas – not so much.They can be bossy and rude.

Ok enough with the llama vs alpaca facts. Back to stuffed animal llamas. So there is a cute Christmas llama stuffie.
Then there is this Melissa and Doug jumbo llama which seems to have a major attitude (see demeanor above).
Finally, we'll leave you with this mama and baby llama stuffed animal duo.
C'mon kids can you say Awwwwwwwwwww! So cute.