Inflatable Pile of Poop Emoji Costume 
Forget cowboy, nurse, or ghost, this year you are going to want to go door to door on Halloween in this awesome poop costume. Who wouldn't – I mean its an inflatable poop emoji costume? After the blockbuster movie EmojiMovie, a few years back you are going to want to go as your favorite emoji character. It's what weird hipsters do after all. Heck, if you go to a party, maybe you'll pick up the hot chick dressed as a fly. Or maybe the grad student dressed as a dung beetle. This costume inflates so that it is larger than life. Though caution, don't eat at all you can eat buffets as you won't be able to reach the food.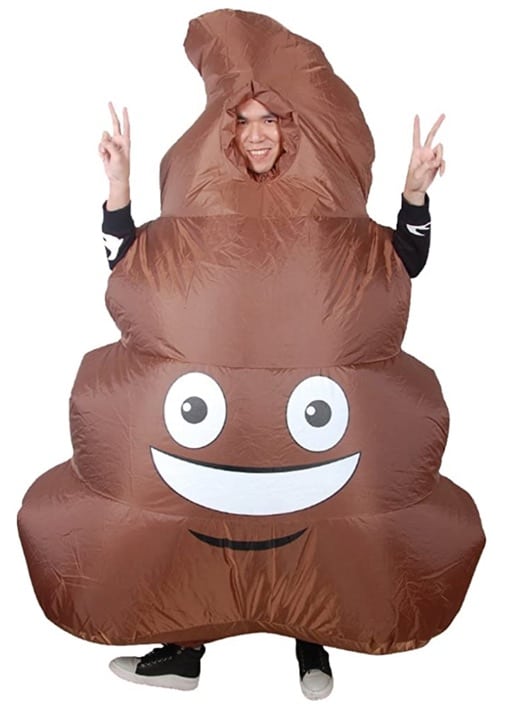 Official Product Name:
Colors:
Brown (what else?)
Specifications:
100% Polyester
Includes Inflatable Poop Body with Zip Up Entry and 2 stretchable arm holes and 2 stretchable leg holes.
Battery pack attaches to a built in fan. You will need 4 AA batteries (not included). Battery pack clips to your waist or goes in built in pocket. Yes the poo has a pocket!
Inflates in under a minute.
Fit any body with room to spare. The headpiece has permeable material for eyes, so you can see.
Idea for people over 5ft (adults). The fan that inflates the suit also ensures that you don't overheat, and become a, er, hot mess.
Can be used for runs, dancing, Halloween, school spirit day, advertising, theatrical, videotaping, sporting events…and presumably for fraternity reunions and poo fetishists, and other poo-loving weirdos
Based on this movie:
Ideal weird gift for:
Weirdos
Poop lovers
Comedians
Pranksters
Rich people who have everything
Your dumb brother
You
Guaranteed** to irritate:
Uptight people
Teachers and Principals
Sanitation engineers
Sewer workers that have no sense of humor
Your mom
Your dog
**No guarantee implied
Where to buy an Inflatable Poop Costume?
Or click this button to see what Amazon has in the way of poop and poo costumes:
More pictures of the Inflatable Poo Costume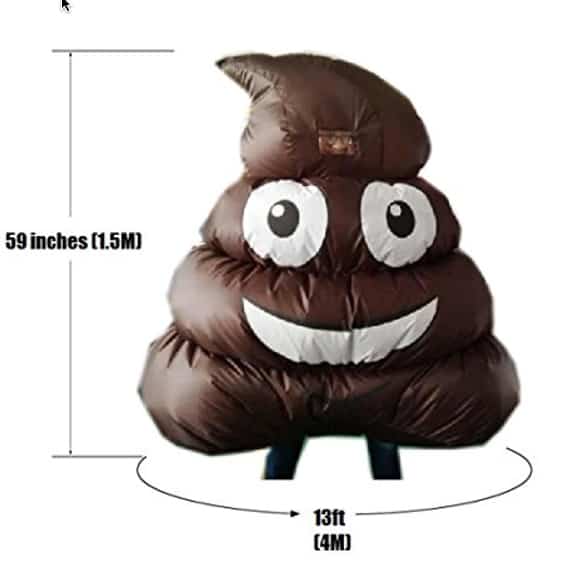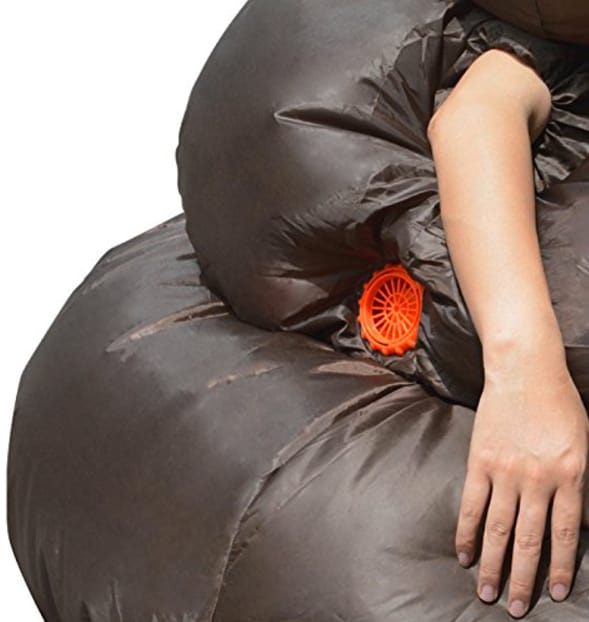 Rate this Poo Costume:
[ratingwidget]
1 star = not weird at all
2 stars = a bit weird
3 stars = kinda weird
4 stars = really weird
5 stars = super weird
Recent Posts: